I have been looking for something to use with my daughter for science for a while. I was really happy to be able to review Visual Learning Systems. For our review we used the Digital Science Online: Elementary Edition (Grades K – 5) there is also a Digital Science Online: Secondary Edition (Grades 6 – 12).

Digital Science Online is a subscription that you pay for yearly. You can subscribe to the Elementary Edition or the Secondary Edition. The cost for homeschoolers is $99.00 per year and allows up to 8 students. There is a teacher side and a student side.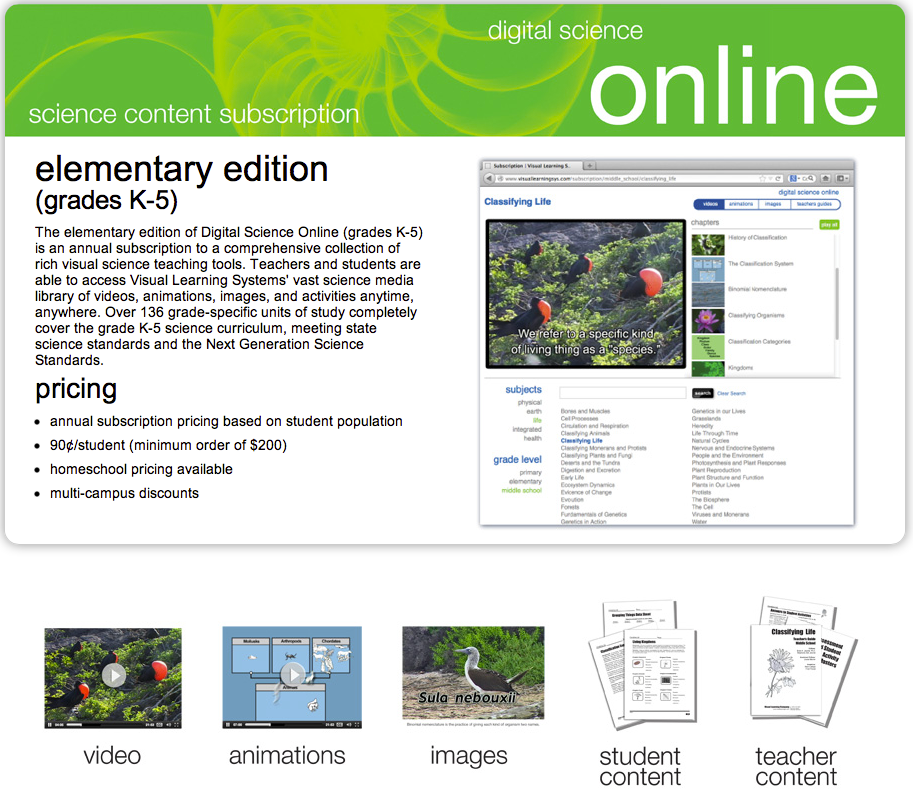 There are many different topics that you can choose. Which topic you choose is up to you. We spent time on Winter, Spring, Summer, Fall, and more. The videos are really not really all that long. You can watch them in full which is roughly between 10 –  15 minutes. You can also break it down by clips, which is also nice if you just want to watch certain things.
There are also animations that you can use. These are really short and you can use them to teach a point or even just for review. There are images, which are pictures that are for your topic. You can use them or not the choice is up to you.
On the teachers side there are teachers guides. I really did like that as in the teachers guide there is a breakdown. You can download the full guide if you want to are bits and pieces. It gives you information to introduce the videos to the students. There are student activities that you can print. The student activities can be printed from the student side as well. It gives you a list of learning objectives. You also have a video script in case you want to talk about the video or make certain points. There are also lab activities in some of them. However, the ones we did, did not have them.
Everything you see on the teachers side can be seen on the students side except for the teachers guide. So sometimes it was easier just to jump on the student side and roll through the videos.
How We Used This: 
I broke each lesson into two days with my daughter. We would talk about what we knew before the video. Then we would proceed and watch the video in full. We would do the Video Review to make sure that she understood the concept. Then the next day we worked on the student activities. The student activities were mainly worksheets that went along with the study. We did science 3 – 4 days per week, depending on what our schedule was.
Our Thoughts: 
I really like the ease of use of this subscription. It was easy to move through and everything you need really is at your finger tips. You could use this as a supplement to your science curriculum or as an add in.
I liked that the learning objectives were all in the teachers guide as well. That way I could make sure that my daughter was understanding all the concepts.
My daughter was really into the videos. She didn't complain at the length and I found that she was engaged. The videos weren't long or boring. The worksheets and the quizzes weren't hard at all. Especially if you paid attention to the video. She really did enjoy working on the worksheets.
Her favorite was spring. Spring is just around the corner here so it reminded her of all the things we had to look forward to. She really the puzzle she got to color and cut out.
She also really seemed to enjoy the word searchers. I was thankful they weren't to hard for her and that she was able to look for the words. The word lists weren't long at all.
My Overall Thoughts:
If your looking for a science curriculum that offers different unit studies then this would be for you. You can always add in some more hands on activities, and art if you want need. These studies take a day or two, to work through. There is enough to keep your child engaged and enjoy it at the same time. It also is very user friendly.
For More on Visual Learning Systems Visit:
Facebook –http://facebook.com/visuallearningsystems
Twitter – https://twitter.com/visualearning