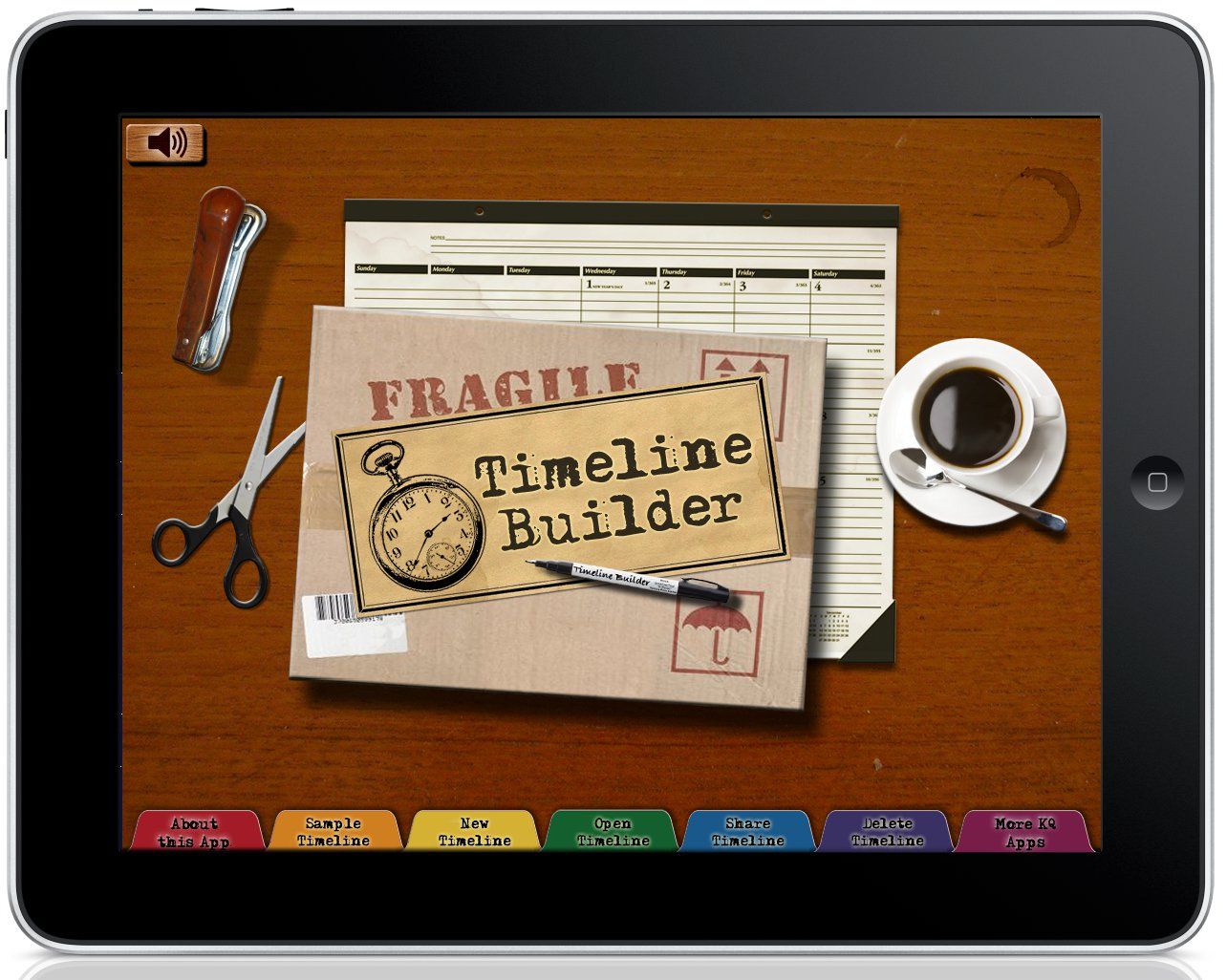 I am really excited to share with you TimelineBuilder iPad App from Knowledge Quest. This app made a great addition to our science and history studies.
I have heard of Knowledge Quest before this review. I have never really checked them out until this review. I must say they have an excellent product line for history. Your child can learn about extraordinary people in history as well as events.  One of the titles that have stood out to me was What Really Happened In Ancient Times? That is something we have been working on around here as well as the Twentieth Century.
The TimelineBuilder iPad App allows you to create custom timelines where you choose the beginning and ending dates.  You have four choices of time BCE, BC, AD, and CE. You have to make them match such as starting a time from BC to AD as an example. You have 8 different backgrounds to chose from. All which are really nice and not drastic.
When you create a new timeline you have an area where you can name it and also a description of what your timeline is about. Then you select the time period as I have mentioned above. Then you start adding your information to the timeline. What I think is a great bonus in this app is that you get to add pictures to your timeline. There is even a search that you can do in WIKI for pictures. It saves all your timelines so you can access them later or edit them later if you need too. I like that you can share your timeline as well. You can share the timeline via email or the events. You can also share the files in itunes. We didn't play around to much with the sharing.
We are working on the Twentieth Century for history and for science we are studying animals. The timeline we made was about Dogs that are heroes. We didn't add pictures because we were not sure what kind of dogs they were as they only gave the dogs name in the stories. For the twentieth Century we are still in the process of creating one on Presidents. We are using pictures for that timeline. We also made a timeline of the different conflicts during the Twentieth Century. This gave us a good chance to really play around with the app.
I really love how easy this app is to use. I love how we control how the timeline is seen. I can see this app coming in handy for many different studies. I think it's nice that you can have a visual of events.
In our Dog Heroes timeline a lot of the boxes were overlapping and running together because of close time frames. I love that I was able to adjust it so we could see the boxes with out being crowded.
The control you have over this app is amazing! It looks nice with or with out pictures.
You can purchase TimelineBuilder iPad App in the iTunes store for $6.99
Below is a sample of one time with no pictures and one timeline with pictures. We are currently editing our history of our pets. We have more pictures to add.