For a while I have been looking at what to use for my daughter for Kindergarten. I was really excited to have a chance to review Time4Learning. For Kindergarten it has three man subjects: Language Arts, Science and Math. The biggest part I was excited for was Language Arts and Science.
Time4Learning covers grades PreK – Eighth Grade and Algebra. There are also 4 High School Courses.  It's perfect for afterschool use, homeschool, and Summer Use. It's convenient and flexible. You can log on any where you have an internet connection and it's available 24/7. You can use this as curriculum for a whole year or you can use it as a supplement or even if your child needs more work.
What's nice is for the parents they have lesson plans. Which is nice because it lays out what you should have your child do each day. There is also a parents community and forum and an activity finder. There is a getting started guide which is great and shows you how the program works and how to move around.
We tried to do each of Language Arts, Math, and Science daily. For me the math wasn't the important factor as I use another math curriculum with my daughter. So I used it as a supplement and time filler for my daughter. What I liked about the math program is that my daughter is working on things the other math curriculum doesn't touch such as patterns, and grouping. As we move forward the math will be good review for her. I kind of feel lucky in a way as so far with my daughter math is coming along very easy for her and she seems to really enjoy it.
The science is not a Kindergarten level it is a First Grade Level and that is because there is no science curriculum for Kindergarten. I feel that even though it's a First Grade Level my daughter is understanding it to the fullest. I do use this as science curriculum and if she wants more then we search for videos to watch on what she has learned.
I also use the Language Arts as part of curriculum too as it was really hard to find something that would engage her. When we first started out I was surprised to see things such as Illustrator, Author, and Title for a Kindergartener to understand. My first reaction was she is never going to get this. Well she surely surprised me as she got it. Don't get the wrong impression every topic as they are working through isn't as hard as I just made this sound. Lots of it was sounds, and identify letters and rhyming.
Me personally I didn't follow the lesson plans as my daughter has the tendency to want to keep on going and I think we spend about 1 1/2 to 2 hours a day on Time 4 Learning. I also like that you have printable worksheets to print out for some of the lessons. The  tests and quizzes are pretty simple. One thing I would like to see and maybe I missed  it is that when the test is graded they could actually see how they did. I know they can see if the answers are wrong or right but it would be nice for them to see a score or a good job if they passed.
I like also that I can go back daily, weekly, and monthly to look at my daughters progress. It's nice to see scores there to see how she is doing. I am pretty much near her when she is doing her work. There are times when I am not so it's nice to be able to see her progress.
There is one thing I would love to see for Kindergarten. That would be social studies. I know they have it for the older grades but it would be nice to be able to incorporate that for my daughter. I know it's community workers and about me and I can't remember what else at the moment.
I think my daughter really enjoys Time4Learning. At times it does challenge her and I think she thinks it's more of game then a learning process as well. She seems very engaged in what she is doing and I don't really get any complaints such as can I be done. She likes to spend a lot of time on it and for that I am glad as she is having fun and learning at the same time.
I would highly recommend this. What nice is that you get a 14 day money back guarentee if you or your child does not like it. It is 19.95 a month per student for Grades PreK – 8 and $30.00 a month for Highschool (includes 4 courses) .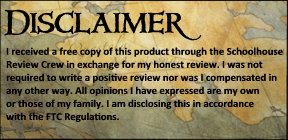 One Response to "Time4Learning – TOS CREW Review"