I have really been kind of bothered lately over something that happened one night last week. I volunteer my time every Thursday night at Church while people come and do Bible Study in their small groups. My daughter comes with me and Dakota goes to a group for his age. Well there is another Autistic Boy who comes into the day care. He is high functioning. Let me tell you the kid is awesome! Read more...
I received the Blog It Forward award from Angela at Mom's Fortress of Solitude. Thank so much for the comment you left for this award. I have been inspired by a lot of others and now is my change to Blog It Forward

Thank you so much Angela! This really made my night last night.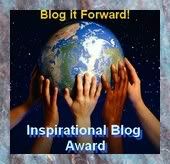 .
Write a post about your new award, linking to the person who awarded it to you.
Award 10 more bloggers who inspire you, and link to them in your post.