Posts Tagged '#abcblogging'
We are in the third week of blogging through the alphabet with Ben and Me Blog. This weeks letter is the letter C. I have been doing a lot of thinking about my children the last few days. I have though about how each one of them are growing up way to fast. I am afraid to blink and miss something. My children are my world.
Read more...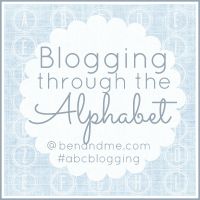 This will be my first time attempting to blog through the alphabet. I must admit I was a little nervous as before today I had no idea what I wanted to write about. I will be joining Marcy over at Ben And Me Blog, along with other bloggers as we blog our way through the alphabet. Thanks Marcy for creating this fun weekly blog hop, this will be a great challenge for me. Read more...