I have debated in my head several times whether or not to teach the kids cursive writing. My oldest has a hard time with writing and his handwriting is atrocious. My daughter is just beginning in writing. So I was really excited to be able to review Prescripts Cursive Letters and Coloring by Classical Conversations.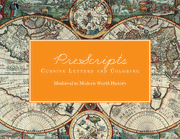 Prescripts Cursive Letters and Coloring is meant for ages 3 – 7. It introduces children to to the building blocks of cursive writing through writing, drawing, tracing and coloring.
When we first started the first thing we do on each page is use our fingers to trace the lines, letters or whatever was on that page. Then I would have my daughter trace and yes she talked me into tracing with markers not a pencil. Although when it came down to writing the letters she had to use pencil. There was two benefits from this  giving her the encouragement that she could trace and write as well as develop better fine motor skills. The coloring pages were fantastic. The images were from medieval and modern history times.
There were times that my daughter got frustrated and didn't want to do it. There were times were she wrote the letters beautifully. I really like the idea of introducing them to lines to trace as it helps them develop the building blocks for cursive. The coloring was an added bonus.
When you first start out the first few pages are of tracing lines and ends with a coloring page. You will see my examples below.
Now how it works through the rest of the book is you have your big letter and little letter you learn to write, tracing, and then a page to color. So as we moved on we did one letter a day, both big and small, tracing, and the coloring page.
Here is an example of what the letter pages would look like.
Now in all honesty I am not sure that before this review I would have even thought about teaching my daughter how to write cursive. However, after using this book I am glad that I had a chance to teach her early while she has the want to learn how to write. I really liked the approach of learning the letters and drawing, tracing and coloring. I think that added more fun to her learning. It also gave her a break from the writing while having fun. Also I want to mention what is nice about this book is that it is spiral bound. Was easier to flip pages and write rather then have a crease in a workbook.
You can purchase this book for $11.99.
I want to mention there is three other books in the Prescripts series.
Prescript Cursive Words and Drawing.
Prescript Cursive Sentences and Art Lessons.
Prescript Cursive Passages and Illuminations.