In this house we love lapbooks for learning. We use lapbooks for a lot of different subjects. I was really excited to try Pond Life by In The Hands of a Child. This lapbook is for Grades K – 2.  We had a lot of fun with this lapbook and the fun hasn't ended yet. As tomorrow we are going to spend a few hours at the pond looking around for some of the things we have learned from this lapbook.
If your not familiar with In The Hands of a Child I highly suggest checking them out. It was created by two homeschooling moms who found themselves constantly searching for graphics and information for their children to complete lapbooks and trying to answer questions. They have many different topics from Early Childhood all the way through high school.
The lapbook that my daughter and I did together was called Pond Life. This lapbook is about life in and around the pond. It teaches them that ponds maybe small but they are an important ecosystem that are home to many plants and animals. This lapbooks is lesson planned out for 5 days. It has 11 different lapbook activities, reading, and suggested books. There also is a activity extension in this.
Pond Forms

How Ponds Are Different From Lakes
Pond Areas
Plants And Animals that Live In and Around The Pond
Pond Dipping
and more!
The cost of this lapbook is $12.0o.
I really liked how there was a list of suggested reading. Some of the books we had and some we didn't. I liked that it had a Research Guide that went along with the unit. So you had to read about a page a day to fit with the activities for that day. The lesson plans were all done for you and it was 5 days worth. It makes lesson planning that much more easier on moms and dads.
We did a couple things differently. I don't fold my lapbooks the way they show you in the lapbook. I will show you my pictures as they look more like a book. Fits better in the drawer to keep their completed work. We also did the vocabulary words on Day  1. That way it was done and put together already.
I liked the content of this lapbook. I also liked that you had the choice to use a printed version or a dot version that kids could trace. I used the dot version that kids could trace. I didn't use different color papers. I had my daughter colors some of the things in the lapbook.
I thought it really fit the level of understanding to the kids age. I didn't think the readings were long or overwhelming and I felt the activities were fun. .We didn't try the pond dipping yet as we are going to explore that tomorrow. My daughter is really excited about that.
I liked how it explained real ponds and man made ponds. The differences between the pond and the lake. How it talked about different plants. I really liked how it introduced the animals that live in and around the pond. All of it will definitely lead up to the Pond Dipping. I also really liked the different levels of the pond and what lives where. I felt it provided great visuals as well.
We really enjoyed working on this lapbook and I plan on using a couple more with the kids.
Here is our completed lapbook: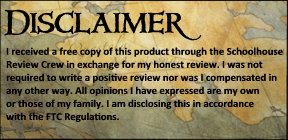 2 Responses to "Pond Life – Lapbook Review – TOS Review"