We recently received New American Cursive: Penmanship Program Workbook 1 by Memoria Press. I had debated for a long time whether or not I was going to teach the kids cursive or not. Mostly everything we do now a days is done on the computer. I also find myself printing and not using cursive as well. I decided that I did want them to at least learn it so they could write and read it, if they chose to use it when they wrote.

The workbook that I received was the perfect way to begin to teach cursive as it is very easy to follow. The letters are presented in simplified form and use a multi sensory approach to teach the kids how to write. There is a cute little character called Mr. Meerkat that makes the learning fun for the kids by showing step by step ways to teach each letter. There are numbers and arrows that also show which direction your pencil should be moving as you make each letter.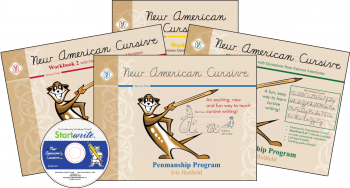 I like how these pages are set up. You say the letter, trace the letter with your finger, trace the letter with your pencil, and then you write two letters. There are about 2 – 3 pages with each letter. In between the letters at times you will find a review. There are also like different curves to trace as well and that is great as that will later help with forming the letters. I also forgot to mention there is a word in cursive the kids will trace.
The workbook is bound so it's easy to tilt if your right or left handed. I like that it is spiral bound because the pages are flat as well.
When we first received this book my daughter was really excited about learning how to write cursive. She was a little confused as to why we tilt our paper when we are writing cursive. So a few times she forgot but I corrected her and we continued. My daughter worked on a letter a day.
There are some letters that she struggles with. The reason she struggles with it is she tries to keep the pencil on the paper without lifting it up. I try to show her the steps but for now I am letting her learn her way as I know that practice will make perfect. She is so proud of herself when she figures out the more difficult letters. She likes that she can read cursive words that are on the pages. She looks ahead at letters wondering what they will look like. I love that she is curious about what other letters will look like.
One thing I really like about this workbook is the fact that unnecessary strokes are eliminated. The NAC alphabet has 26 fewer strokes then the top three cursive writing programs. The letters are simplified so that the kids can learn how to write easier and I noticed that even though my daughter is just beginning it is more legible as well.
Some days it would take us 20 minutes and other days took us a little longer when she struggled. She was a trooper and was determined to learn.
This book was designed so that first graders could learn to write. The ages of this book I would say are for Gr 1 and up.
For more on Memoria Press visit:
Facebook: https://www.facebook.com/memoriapress
Twitter: https://twitter.com/MemoriaPress
Pinterest: https://www.pinterest.com/memoriapress/
Google+: https://plus.google.com/u/0/+Memoriapress1/posts
Instagram: https://instagram.com/memoriapress/