Recently we had a chance to review Moving Beyond the Page, which is a complete homeschool curriculum of social studies, science, language arts and math. What I have come to like about this program is that it is a literature based curriculum.
My son and I reviewed the language arts online package of Lincoln. This is geared for children ages 9 – 11. In this package I received the online curriculum for Lincoln. I received the physical copies of the books A Picture Book of Fredrick Douglas and Lincoln: A Photobiography. You can purchase this package online for $30.83.
This unit is about exploring the life and legacy of Abraham Lincoln. We really enjoyed reading this as you got a chance to know who he was from a young age all the way through his assassination. We learned about his political views and who agreed with him and who didn't. We learned about the things he stood for. One thing we got to examine was the relationship between him and Frederick Douglas.
The Curriculum contains activities that you do each day. Each day you read a chapter and you answer a couple reading questions for the chapter. Then there are several activities. A few examples were writing a speech and giving the speech, learning how to use participles and appositives in writing. There was even a hands on art project.
I want to mention that this can be used alone for language arts or you can use it along with a social studies unit State Government and Economics. We used this unit alone.
My son and I really enjoyed reading about Lincoln. Many things I myself didn't know. The pictures in the book were a great addition to get visuals of his life. The only thing is the chapters are kind of long.
We did an activity a day. I really liked the comprehension questions for each chapter. I wish there would have been a few more questions. So at after we answered the questions I had my son have his own journal on the computer and had him write down some facts that he learned or what he felt was important about that chapter. We did most of the activities some I had to do some tweaking on to be on the same level as him. My sons favorite was the art project, where he cut out pieces to make a portrait of Lincoln.
We also had a chance a science unit on Sound, that is geared toward ages 7 – 9. I used this with both my kids. My daughter didn't get into the work sheet part as she is younger but my son did all of the unit. My daughter joined is in the hands on portions.
We received a physical copy of the Sound Unit and also a Human Anatomy Ear Model. In this unit we learned about the sense of sound and better understanding our environment. We learned about the parts of the ear and how sound travels. We also built string instruments. You can purchase this set for $37.99
I want to mention we used this unit as a stand alone but it is designed to be used with the literature unit, Who Was Helen Keller?
We really had a great time with this unit. What I really liked about this unit was that it was hands on. My son seemed to get more out of it with all the activities. We did one lesson a day.
One experiment that put us in awe was with a solid, liquid, and gas. When you do this experiment you be in awe yourself as the one you think it will travel through it won't. I don't want to give it away as it's the fun about the experiment.
The ear model I must admit took me forever to put together as I couldn't follow the diagram directions really well but we did manage to get it together.
What I really liked was there wasn't a lot of worksheets that contained writing. It was more hands on and exploring. My son seemed really into it going through the house and listening to the different sounds on hard and soft things.
Just showing you a couple examples of some of the activities we did.
The picture above is meant to be an exhibit of how sound travels through the ear. It gives you a better visual as you are connecting the pieces.
This activity was a model of an ear drum. As my son talked through the tube he could feel the vibration on the other end of the tube. This is to show how sound passes through the ear canal and causes the ear drum to vibrate.
My Over All Thoughts: 
I want to describe my thought in one word: Impressive. We really had a great time with both units and we walked away learning a lot. My sons favorite of course was science. I think this is a great hands on approach that provides fantastic visuals along the way.
Now I want to mention something about the online version of the curriculum. You only get to view it for 9 months and I am not crazy about that idea as life happens and sometimes you get behind. It's almost like renting. So therefore, my preference would be buying the physical copy as it's there forever and you can reuse it again.
I also want to mention that you can buy these individually or you can buy these in a bundle. I find the prices reasonable for what is included in the price.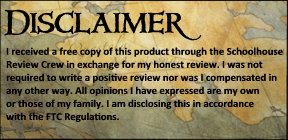 6 Responses to "Moving Beyond The Page Review – Literature Based Studies"