Do you as a homeschool mom struggle with trying to balance things? Maybe your feeling that your not doing a good job? Maybe you feel you need to change things up? I can tell you I have been there. There are times I still am there. Whether you are new to homeschooling or have been homeschooling for years, Homeschool Rescue by Only Passionate Curiosity is a wonderful resource to check out. There is help and support out there, and there is always room for growth and new ideas!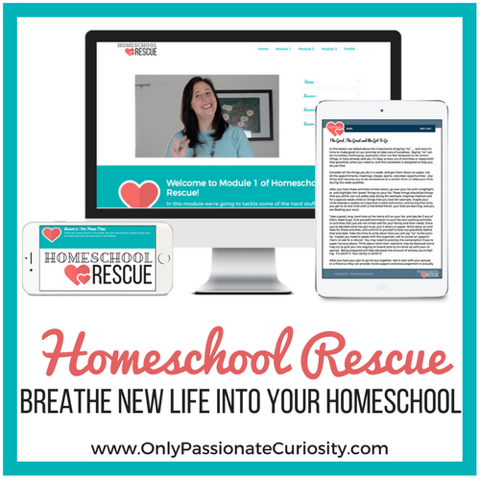 Homeschool Rescue is a 60 day e-course that is full of practical lessons to help get you back on track for homeschool. We all have those days. With this course you get lifetime access to 20+ videos. There are even transcripts you can print and audio to listen to so you can take it on the go. Each lesson has printable workbook assignments for you to work on. You will be amazed with the resources that are there to help you. One perk is the Facebook group that gives you wonderful support and answers to any questions, your also with a group of like minded people who have a common interest…homeschool. You will also find some bonus content through some of the modules.
Some of the topics that are covered are: trouble shooting your homeschool, time management & organizations, planning and curriculum, setting your students up for success, teaching older students, and more.
My Thoughts: 
At first I honestly thought I had a lot of the same answers but after the first 5 minutes I was like wow…I never thought about those thing. I am actually working through this slowly as I have had to have time to process some of this. I struggled trying to make a mission statement. That was really hard for me. I had to watch some of the videos a couple times. It wasn't because I didn't understand what she was saying. It was to help me grow and to change. One thing I need to do is make more time for myself. I need to give myself more grace. I think I am my own worst critic.
There was a module that really did touch my heart. It was called Special Circumstances. I do have some health issues that do sometimes get in the way. I have also had people tell me I am not doing things right, or I should be doing this or that. When they actually have no idea what or where my kids level is at. I would at first take those really personal. I also have to kids that are the autism spectrum and there needs or totally different. It was nice to know that I am not alone. It was also nice to hear some suggestions that I may not have thought about. It also gave me a little more to think about.
Another module that really touched me was was on Just Saying No. I have a hard time saying no. I want to help people but I don't think about the costs. I have been there where I have helped a friend but literally got burned out emotionally where I wasn't doing the things that I needed to get done. It was affecting our homeschool and my family. I have to learn to say NO. To think about the costs before I say yes. It's not saying no to be mean but it's saying no with Grace. It applies to life and to homeschool. I have to make curriculum choices… after all some of them do cost and I need to know that those costs are going to come with success.
As you can see there are many areas that you may not think you need help with, or areas you may not even think about. There is always room for growth and evaluation. I really think  that Homeschool Rescue would be a great addition no matter where you are in your homeschool journey. It really has been a blessing so far and really has opened my eyes to a lot of different areas for me. I think the thing that I like most is the fact that I can go back to any of those areas at any time. It's not just 60 days and your done and you can't go back. I like being able to take the audio with me anywhere I go. The workbooks are something you can also look back on as well. This is a self paced course so you can go through it how fast or slow that you want to. I do have to say that I had have been blessed with finding areas that I could use work to grow in.
For More On Only Passionate Curiosity Visit: 
Facebook:  https://www.facebook.com/OnlyPassionateCuriosity/
Twitter:  https://twitter.com/opchomeschool
Pinterest:  https://www.pinterest.com/OPChomeschool/
Instagram:  https://www.instagram.com/onlypassionatecuriosity/
Goggle+:  https://plus.google.com/b/110290451358830656260/+OnlypassionatecuriosityHomeschool