Welcome!
It's back to school time, and for homeschool families – that means gathering curriculum, planning and finding new ways to inspire kids in their studies. SKrafty Homeschool Minecraft is the perfect way to add the fun and inspiration you need.
This fall, the class line up is spectacular! If you need homeschool math, science, bible, history, language arts or more . . . you are in for a treat. Using some of your favorite homeschool curriculum companies (including Apologia Science, Mystery of History, and A+ Interactive Math) you'll learn to incorporate Minecraft projects into your family homeschool.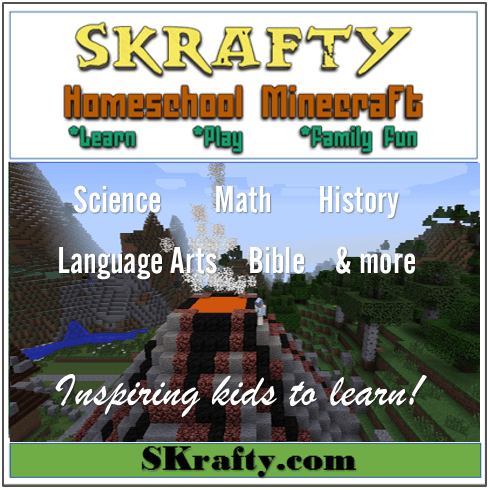 Find out more about the fully monitored SKrafty Minecraft server where it is safe for your family and children – and get whitelisted for FREE right HERE.
SKrafty is specially designed and the rules are constructed to encourage good sportsmanship – with no griefing allowed, no bad language or ugly talk, and no sharing of outside links to protect your children. See a full list of rules HERE.
What other parents are saying about SKrafty Homeschool Minecraft:
"Since starting Skrafty my son has blossomed. His typing has gotten a lot better. School work is not a chore any more I just give him the list of what needs to be done and he does it. He finds the lessons entertaining and engaging and he loves the activities that go along with them. We are all very grateful for Skrafty." ~ Cheryl J.

"My son enjoys playing on Skrafty with other kids and I love that it is a safe, moderated Minecraft server! While playing on Skrafty he has learned creative building, developed critical thinking skills, made friends, and learned to be a team player. The classes have been fun and the reading program has encouraged him to read more than ever. Skrafty has been such a blessing to our family!" ~Julie B.
Special needs learning:
"Skrafty has been a huge blessing to our family! My son with dyslexia is not only learning but enjoying learning!!!! His reading and writing have developed more with Skrafty than any other program we have used. The classes are engaging because they are so hands on and truly turn learning into an adventure. I so highly recommend Skrafty!" ~ Caroline D.
What we learned:
When I was first introduced to SKrafty I was very excited to see that there were classes that my 6 year old daughter could take. There is a wide variety of classes to take from science, history, math, and literature. For our review we got a chance to take the class Animals and their Habitat.
The class is a 6 week class. Each week you learn about a different habitat. We spend one day reading about the habitat. We also jump to the quiz right away as I want to make sure that my daughter really learned about the habitat and was ready to do the building based off what she learned. I was actually blown away as she has aced every quiz so far. So that tells me she is really paying attention. Then we jump into the building. It takes us about 2 – 3 days for the building. She may not be as creative as some of the kids but her creativity is blossoming. She spends time looking around the server to see what the other kids have made. We look on Google images and print out the pictures to use as her guide to build her habitat. The assignment is to build the habitat and an animal from that habitat.
My daughter is having a lot of fun with Skrafty. She is both engaged and learning in a safe environment. She doesn't moan and groan when it's time to work on her science class. She is ready and excited to be able to work on her assignment. SKrafty is where learning meets fun!
One more thing I want to mention is that there is a safe area for kids to play when they are not working on assignments. If your new, they have volunteers that take you on a tour to see the different areas you can play in. Lots of variety and fun to be had. Kids are very friendly and invite you to play along with them. My daughter can't type so we haven't really played in the games.
I was really impressed with SKrafty that I signed up my son for a Astronomy and Planets class and my daughter for a Literature class that starts in fall. I love the self paced classes. You can work at your own pace with out feeling pressure. I feel adding these classes into our homeschool day breaks up the boring book work that the kids do. It gives them a chance to have control over their creativity and have fun.
Affordable:
Extremely affordable classes (between $6.99 – $32.00) make it easy to add creativity and excitement into your education at home. Sign up HERE for live classes or self-paced classes and begin your journey into the world of homeschool Minecraft with SKrafty.
Giveaway Companies – Multiple Winners!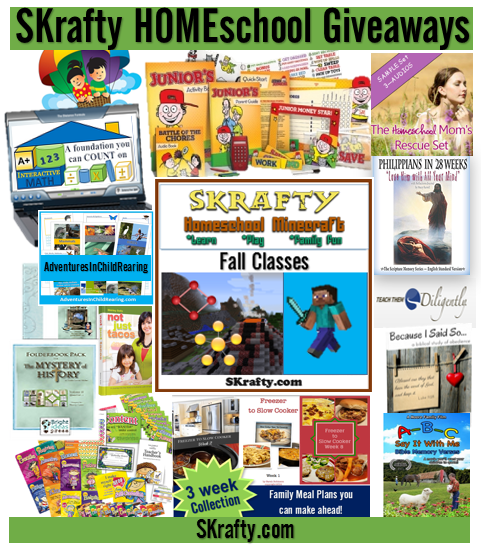 Check out all the wonderful companies and prizes you can win for your family homeschool:
3 SKrafty Fall Classes – Value up to $32 each
Mystery of History Volume 1,2, or 3 & Super Supplemental – Value $150
A+ Interactive Math – Family Package for 3 Students – Value $450
Adventures In ChildRearing – Wildlife Adventures bundle- Value $27.99
We Choose Virtues – Homeschool Kit – Value $98.99
Sidetracked Sarah – Crockpot Freezer Meals 3 pack – Value $8.97
Moore Family Films – ABC Say it With Me – Value $15.99
Not Consumed – Back to School 4 Pack – Value $12.50
Teach Them Diligently – Family Pass to 1 Convention – Value $65
Homeschool Adventure Co. – Philippians in 28 Weeks – Value $18.95
Media Angels – Homeschool Moms Rescue Set – Value $9.99
A Journey Through Learning – Math Lapbook – Value$15.00
Dave Ramsey – Financial Peace Jr. – Value $24.95
Enter with 1 entry or enter with them all:
SKrafty is where learning meets fun with minecraft. Kids aren't bored with the traditional book work. They are learning about a subject that interests them and using their creativity to build what they learned. They have a safe environment for them to be kids and play. I feel that each child inspires another by what they build. Creativity and imagination come to life.
Note: I was not paid for this review. However, I did receive a free class for my review. The opinions in this review are 100% mine.
One Response to "Homeschool Minecraft Reviews & Giveaways – Skrafty Where Fun Meets Learning"