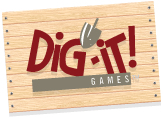 We have been having a blast reviewing Mayan Mysteries Online Game by Dig-It Games. This was a great way to learn about Mayan history.

I must say that I was really impressed with the Mayan Mysteries Online Game. As my son worked on this each day I sat next to him watching him. We took turns reading what was on the screen. It has taken us longer to solve the mysteries as we read we kind go into discussion about what he has read so I can make sure he is understanding it. It's his time to ask questions before we move on to the race with the looters.
I think the mixture of content in the game really keeps my sons attention. It starts out with a little comic story and you see the little comic stories through out the game. Then you begin your mission. You click on different people in that mission and you read about different things in Mayan History. For example: we were at a dig site and it was about tools the Mayans used for cooking an hunting. You learned about the layers of the dig sites and which tools to use to uncover the artifacts.
While you are at these different sites and are reading about the history in short chunks there is blue hyper linked words that give you a little more information. You want to click on these hyper links because some of this information is used in the questions you need to answer to race the looters.
It's not just about the Mayans they learn about. The kids also get a glimpse of what archaeology is and what they do to uncover artifacts. For example, they talk about the different layers in the ground when they are digging and the materials used during that time period can give them specifications on time periods.
I think my sons overall favorite part of this online game was the dig sites and uncovering the artifacts. To me it seemed hands on for him to see uncover the artifacts and see what he has uncovered. We are still racing the looters as we have moved through this game slowly. You move solve puzzles and gather clues to track the looter.
I really liked this as I thought it was full of interaction. It's very easy to play and understand as you navigate through the mystery. You can stop and resume your game play where you left off.
Another thing you will see when you log in are scores that you can compare where you are to others. You can see all achievements and access information about new games.
This game was designed for kids in grades 5 – 9.
You can purchase the online subscription for one year for $21.99.
My Over All Thought:
Mayan Mysteries is a fantastic hands on game for kids to learn about the Mayan history. It's interactive and keeps their attention so they are curious as to what is next, while learning in depth about a historic time period.
One thing I forgot to mention is while they are traveling to different areas they are also learning about the geography and locations in Central America.