I received the Blog It Forward award from Angela at Mom's Fortress of Solitude. Thank so much for the comment you left for this award. I have been inspired by a lot of others and now is my change to Blog It Forward

Thank you so much Angela! This really made my night last night.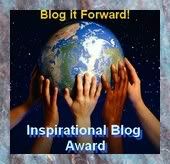 .
Write a post about your new award, linking to the person who awarded it to you.
Award 10 more bloggers who inspire you, and link to them in your post.
Comment on their blog, directing the blog owner to this post, so they may copy the code and display it on their side bar. Here is the link:
http://tiny.cc/BlogItForward541
Your blog name and link should have been listed in Mister Linky by the person who nominated you.

Comment here once you have done all of this so we can read your inspirational nominees' blogs.
The Road To Here - SquirrelQueen has a very inspiring website. I love visiting and see her photographs as well as the wonderful quotes.
Inlove with Daisies - Daisy is another one that really inspires me with her site. I can't remember if it's Thursday or some time on the weekend. But her thankful posts really inspire me as they are so positive and they really make you think. I love all her posts but those are my favorite

Thom you always have something on your website that makes me laugh. Your creativity is fantastic! I love quizes! Yet another blog that truly inspires me!
Karie is another one of my bloggy friends that makes me laugh with her posts. She is straight up and honest and tells ya like it is. You truly do inspire me! Congrats on your graduation!!
Kathy I am passing this on to you as I really loved your blog. I love how you also speak your mind. In many ways I can honestly relate! We do have something in common our children!  Thanks for making my day with your sweet words!
I know I am suppose to pick 10 and I can add to this as I figure this out. But these four truely inspire me and isn't that what this award is all about…  Have a Wonderful day!
9 Responses to "Blog It Forward Award"