I have struggled to find a homeschool science curriculum until I found Apologia Educational Ministries. I received the Exploring Creation with Chemistry and Physics Book, Exploring Creation with Chemistry and Physics Notebook Journal, and Exploring Creation with Chemistry and Physics Junior Notebooking Journal.
Exploring Creation with Chemistry and Physics is a homeschool science curriculum geared for kids Gr K – 6. This curriculum uses a Charlotte Mason methodology to give an introduction to the fascinating world of chemistry and physics to students. We are just starting to use this method so I must say it really kept both the kids interested. The kids are learning how God created the universe. This covers atoms, molecules, simple chemicals, laws of motion, electricity, magnetism, and simple machines.
What I like most about this book is that each chapter has a lot of hands on activities to reinforce and explain what the kids have read. I think there was only one experiment that we couldn't do and that was only because we were at my parents doing homework and they didn't have everything that we needed to do the experiment.
In the Notebook Journals for both kids is daily schedule. I used that as a guide as to what to do each day. I did have to break down smaller for my kids. Instead of taking 2 days a week to do this we spent 4 days a week doing science. I had to break it up in smaller chunks because I knew my older son would get over whelmed doing a lot in one day. Breaking it up also allowed for him to stay interested and focused into what we were doing.
I used the Junior Chemistry & Physics Notebook Journal with my daughter. I really like that his book is designed for younger kids and beginning writers. In this book you will find coloring pages, easy and fun experiments, full color mini books, and basic exercises to strengthen vocabulary. I found this was just perfect for my daughter with the lines in the book. I did have to help her spell words as she is just a beginner. So I would write things down on our dry erase board and she would copy it. I think one of her favorite things in the notebook journal is the coloring pages. we take the time to go over the verse after she colors and talk about it. I also like after she writes something she can draw about what she wrote. There is copywork in each lesson and again that's something I really like as well. The child copies a verse from the bible, and again we sit and talk about the verse. There are also other activities in each lesson as well.
I used the Chemistry & Physics Notebooking Journal with my son. This notebook is a great way for kids to display their work as well as provides a place for kids to record their science experiments.  This book also includes some full color mini books, cross word puzzles, fun science experiments, and copy work. This book is recommended for kids who have mastered handwriting and can take notes.
The one thing I wanted to mention about both of these books that I could work through them easily with my kids. The only difference is my daughter had coloring pages which I had to figure out the right balance in time for her to color her pages. The fascinating facts in each section we did while we were reading the lesson with the suggested pages. I like that they both had the same assignment and were able to draw about what they wrote. Each book had copy work in printing and cursive for the kids to choose which way they wanted to write. Both my kids printed. It was nice to be able to talk about the versuses together as well. The extra science experiments in the notebooks were fun to do as well.
I love how the lessons flow together with the book and journals. I am amazed with all the hands on activities as well. The hands on activities are what kept my kids really into what they were doing and learning. It's nice for them to be able to have visuals as well. It sometimes takes us longer to go through the lessons because I stop and ask the kids a lot of questions to make sure they are listening to me while I am reading. Sometimes the kids stop me because they have something to say, something they are thinking, or even a question. So I guess we move through things a little slower then most people.
The one nice thing is my kids are learning about God's wonderful creations in a way that is not pushing it onto them. They are learning it in a fun way and at times there is talk about God through the chapters. My daughter loves learning about creation. My son on the other hand I can't push things on him. If it's introduced nice and slow he won't grumble and lose interest. So for me that's a plus.
I just want to share a couple of our favorite science experiments.  We had this one experiment where we had four different cups, salt, water, food coloring, and straws. Each cup had the same amount of water but different amounts of salt. Each cup was a different color. Unfortunately I had a colored straw so we didn't get to see the beauty of the colors as well. We did see the concept and we did see the colors through the straw. What you did was dip the straw a certain amount into the water to suck up the water. While you were doing it the colors pushed up into the straw. When you were finished you saw four colors. Which to my kids was amazing because they have never saw something like this. My daughter must have did this experiment over and over again. She was so intrigued by what was happening. The result of this was the different densities in the water.
My sons favorite experiment was building a boat out of aluminum foil to see if it could float. The catch here was he had to put the pennies on the boat before he put it into salt water. It didn't really say how big the foil should be so he ripped an amount. I must say I was really proud of him as he was able to make the boat float on the first try. Then for the fun of it we added more pennies to see how many it could hold before it sank.
I just want to mention that I think Exploring Creation with Chemistry and Physics is a great homeschool science curriculum. If you like science experiments and hands on then this is the one for you. Very interesting and stimulating to the kids.
You can purchase the Exploring Creation with Chemistry and Physics for $39.00, Exploring Creation with Chemistry and Physics Notebooking Journal for $24.00, and Exploring Creation with Chemistry and Physics Junior Notebooking Journal for $24.00.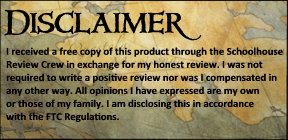 One Response to "Apologia: Exploring Creation with Chemistry and Physics Review"